Agricultural/Horticultural Sector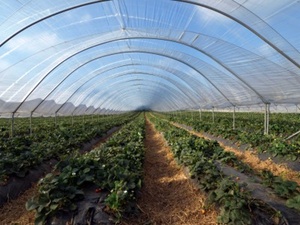 We believe that our unique photovoltaic battery concept, which is directly integrated onto fabric, could provide the agricultural and specialist growing sector with a product which may be more efficient and beneficial than the current growing systems, which include the use of poly tunnels.
The Power Textiles system involves the deposition of photovoltaic cells on to a base textile fabric, in this instance polyester. Polyester is a universally acknowledged textile material which is used in many applications such as clothing, industrial cladding, aggregate containers, tyres, ropes and even surgical implants.
We consider that our unique system could be applied to enhancing an enclosed growing environment through controlling aspects such as airflow, humidity, irrigation, or pest control, with the solar electrical energy powering sensors and actuators. There may also be the option of extending the growing season cycle by the introduction of low level heat, generated by the energy from photovoltaic cells. This could provide more effective and consistent growing conditions, thus improving the reliability of crop quality and reducing risks of crop loss, without requiring grid-connected power. The expected outcome would be enhanced crop yield, increased revenue for the grower, added value in terms of quality, increased range of produce.
We envisage our system being of interest to growers, but specifically those involved in production of more exotic vegetables and fruit varieties, thereby creating the opportunity to eliminate importation costs and reduce carbon foot print, thus sustaining a larger 'home grown' market.
Our system may have possible applications for use in organic farming, hydroponic applications and fruit growing.
The benefits:
Polyester is the most commonly used synthetic fibre
Polyester is more durable than polythene
Current use of polythene is limited to approx 3 years
Will provide improved frost protection
The integration of photovoltaic cells enables low level energy to be generated
The energy could typically be used to provide sensing of growth conditions and feedback control to actuators, or to provide some low-level heat
Construction sector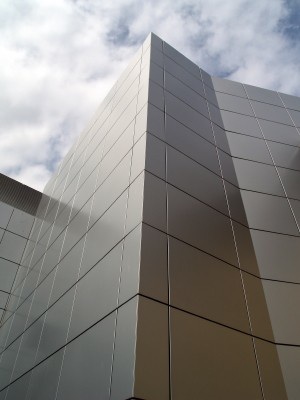 Our photovoltaic concept can also provide the construction industry with a beneficial product. Increasingly, particularly in tropical and subtropical regions, textile architecture is becoming more and more of a feature. Many of these textile constructions are permanent or semi-permanent. Tents, such as those used by the military and campers, are the best known textile constructions, as are awnings and canopies, but nowadays big textile constructions are used extensively for exhibition halls, sports complexes and leisure and recreation centres.
Although all these structures provide protection from the weather, including protection from exposure to the sun, we consider that our solar concept can be applied to an additional valuable use - providing power! Many of these large textile architectural constructions cover huge areas, sufficient to provide several kilowatts of power. Even the fabric used to construct a small tent is enough to provide a few hundred watts.
In addition to textile architecture, panels made from robust solar textile fabrics could be positioned on the roofs of existing buildings. In contrast to conventional solar panels, which are sandwiched between flat glass plates and so are not suitable for all roof structures due to their load bearing weight, solar textile panels by comparison would be light-weight and flexible, and would not shatter. A number of rooftops possess curved features, and our solar fabrics could be shaped to take in these features.
We believe that our product could be integrated and combined with roofing membranes but also may lend itself to being used in conjunction with decorative building cladding incorporating LED displays.
Disaster/humanitarian relief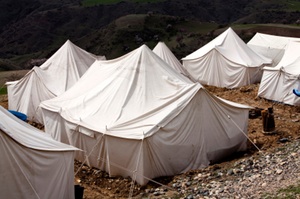 We are all too aware of the need to help those who suddenly lose their homes and possessions as a result of earthquake, bush fire, flooding or other natural disaster. Many of these disasters occur in tropical and subtropical countries. The victims of these disasters are commonly housed in tents until they are able to rebuild their homes. Whether they stay in tented accommodation for a short or long time, tents constructed from solar textile fabrics could provide a source of much needed power. This power could be stored in daytime and used at night, when the outdoor temperature can often plummet. Solar fabrics draped over existing tentage structures (awnings) would also be capable of providing power. Either way, power could be provided to the victims quickly, before heavier and more cumbersome power generators could be installed. Solar textile fabrics would similarly be useful in remote areas of the world, not served by an electrical grid system.
Other applications
We are also aware of a number of other important potential applications. The military would benefit from tents and field hospitals, especially those in remote areas, where electricity could be generated as soon as the structure is assembled. Our concept could enable extended missions through in situ charging, and provide power for unattended sensors during long-term deployment in remote regions. Military logistic chains could be simplified by reducing the number of batteries employed in the field and transported between theatres of operations and charging stations. Airships could also be readily powered at high altitude.